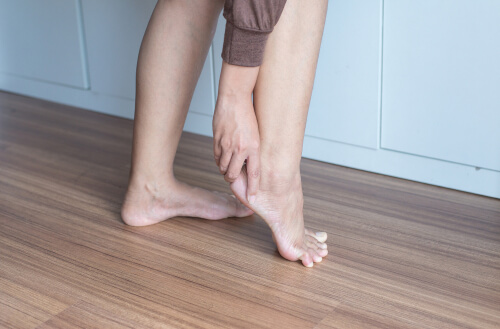 Heel spurs occur when calcium deposits attach to the heel bone as a result of structural imbalances in the feet, as well as the development of conditions like tendonitis, and arthritis. These tiny "osteophytes," are only around a quarter of an inch in length, and they present the affected individual with symptoms of pain and swelling in the heel. In most cases, heel spurs aren't visible until they start to grow large – presenting as bumps on the soles of your feet.
There is no cure for bone spurs in the heel, and doctors are hesitant to operate on the heel, in case they happen to damage any of the hundreds of nerves endings in the feet. Most people that develop bone spurs will have to live with them for the rest of their days. However, there are steps you can take to treat the condition and reduce the symptoms.
So, what are the symptoms of heel spurs? Here are the most common symptoms, and their effects on your feet and body.

1. Sharp Pain in the Heel
The first symptom of heel spurs that catches the attention of the affected person is severe pain in their heel that occurs as they get out of bed in the morning. Osteophytes, (bone spurs,) don't present pain symptoms until they reach a critical mass that's greater than half an inch or so. However, when they do reach a large size, the pain symptoms come on relatively quickly.
Seniors are most at risk of developing heel spurs, and its typically a complication of degenerative bone disease, such as rheumatoid arthritis or osteoarthritis. The sensations of pain come and go depending on the thickness of the heel pad, and whether or not the patient experiences an attack of RA.
Symptoms of pain may increase if the patient experiences the growth of multiple spurs in the same heel. In some cases, the pain may be so severe that the affected individual has to use a walking aid – such as crutches or a walker, to mitigate the symptoms when moving around.