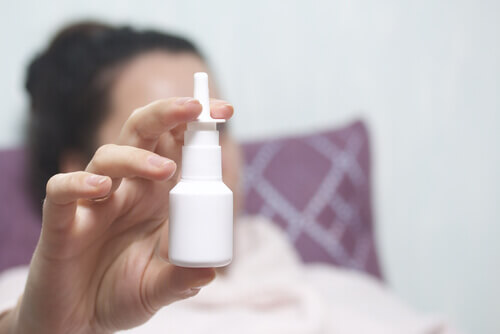 2. Saline Nasal Spray
Nasal sprays may also provide some relief from your sinus headache symptoms.
Many people make the mistake of using a nasal spray containing NSAIDs for relief from their sinus headache symptoms. Unfortunately, these sprays – while useful, may also cause a string of adverse side-effects as well.
Saline nasal sprays are as effective as NSAID formulas, without the nasty side effects of elevated heart rate and sleeplessness. Saline nasal sprays are available from your local pharmacy, but you can make them at home as well.
Combine the following ingredients to make saline spray right in the comfort of your kitchen.
1-cup purified water.
½-teaspoon crushed Himalayan pink salt.
¼-teaspoon baking soda.
Mix well in a large mixing bowl until the salt and baking soda dissolve into the water. Add the solution to an empty nasal spray bottle and use it as often as necessary to unblock your sinus and provide relief from the pressure of a sinus headache.