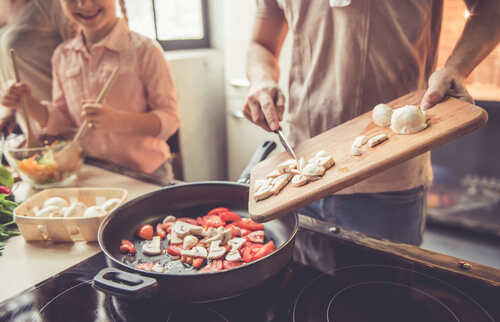 The milk and flesh of the coconut have health benefits for humans. Over recent years, consuming coconut oil has become a popular health trend, with people swapping out their vegetable oils for the saturated fat source.
Coconuts contain high amounts of saturated fat, along with a dose of potent antioxidants that clear your blood of free radicals, the particles that cause cell oxidation and cell death. This source of saturated fat contains an abundance of vitamins and minerals, as well as healthy fats.
Studies on using coconut oil in meals show that the oil increases HDL cholesterol production – the good type of cholesterol that protects your heart from disease. Consuming coconut oil also reduces the amount of LDL, the bad kind of cholesterol, found in your blood – improving your cardiovascular health.
Coconut oil has a variety of health benefits worth considering. Here are eight healthy coconut uses for your meals, beauty routine, and around the home.

1. Cooking
Are you still cooking with vegetable oil? If so, it's time to throw that out. Replace your cooking oil with coconut oil instead. Coconut oil contains medium-length chains of fat molecules, such as lauric acid, bound together with a single carbon bond. This structure gives coconut oil stability at room temperature, and it's typical for a tub of coconut oil to look like a brick of lard.
Many people mistakenly use extra-virgin olive oil as a replacement for vegetable oils in cooking. This practice can damage your health. The fat molecules in EVOO have a low smoke point. This fact means that the molecules break down into trans-saturated fatty acids when exposed to high heat.
Trans fats are terrible for heart health, and you would be better off using regular vegetable oil. Coconut oil is easy to cook with, toss some oil in the skillet and watch it melt in seconds.