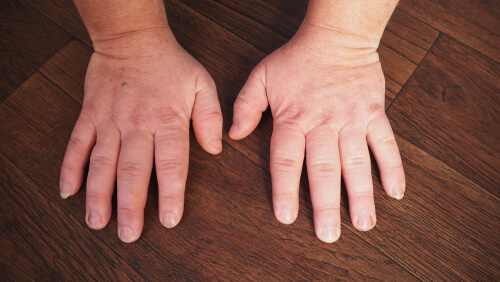 Acromegaly is a health condition that's most frequently caused by the overproduction of growth hormones, and it comes with a range of symptoms associated with it including typical enlargement of the jaw, hands, feet and more prominent facial features due to the disorder.
It's far more than just the condition many public figures, actors and wrestlers have made famous.
Sometimes the condition can be treated with the removal of the tumors placing pressure on the glands that produce the growth hormones – but before a condition can be either managed or treated, it first has to be properly diagnosed.
What's the difference between a sign and a symptom? A symptom is personally experienced by the patient, while signs can be seen from the outside – and are very important to look out for.
Here are 8 frequent signs of acromegaly that can occur in the approximately 6 in every 100, 000 cases diagnosed every year.
1. Enlargement of the Hands and Feet
Enlargement of the hands and feet is one of the most characteristic symptoms of acromegaly, and it's usually one that starts to happen gradually and then increases as the condition becomes more progressed over time; for example, Andre the Giant – wrestler and famous acromegaly sufferer – was known for his incredible size and reach, and the same is true for many public figures with the condition (and of course, regular people, too).
This sign of acromegaly can sometimes be associated with pain in the hands, an increased likelihood of experiencing joint pain or in most cases moderate to severe arthritis throughout life. Of course, this needs to be treated as a separate symptom to obtain relief, but is usually done with the use of anti-inflammatory medication and the reduction of stress sustained to the hands.
Enlargement of the feet can also mean that acromegaly sufferers have trouble finding shoes, and need to have them custom-made.