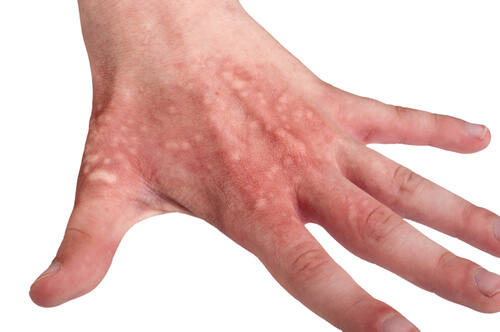 Patients who are dealing with the effects of dyshidrotic eczema experience outbreaks of blisters on their hands and feet, and sometimes in the folds of the skin where sweat accumulates. The skin disorder causes intense itching symptoms that increase the size of the blisters after scratching.
Blisters caused by dyshidrotic eczema fill with yellowish-clear pus that weeps from any broken blisters, forming crusty yellow deposits around the affected area. Medical science is unable to provide an exact reason for the cause of the condition, and patients will have to endure the outbreak for up to three weeks after symptoms appear.
Some doctors believe that eczema is a type of autoimmune disorder where the immune system attacks healthy skin cells, causing the formation of eczema blisters. In some cases, the blisters may appear after excessive sweating, such as wearing neoprene supports on the knees or ankles during training.
Here are eight symptoms of dyshidrotic eczema.

1. Blistering on the Hands
Patients who are dealing with the effects of dyshidrotic eczema may notice that the disease starts to present small bumps between the fingers, that spread to other regions of the hands, including the palms. As the condition develops, the blisters grow larger and start to present itching symptoms.
If the patient starts to scratch the affected area, the blisters may burst, causing a clear to yellowish pus to leak from the damaged area of the skin. This pus does not spread the surface area of the blisters, but it can increase symptoms of irritation as the discharge starts to dry.
Some patients may find that the blisters on the palms start first, with the area below the thumb being the primary site for the start of the rash. Patients may find that itching increases symptoms of irritability, and if they keep scratching, the condition keeps progressing, until the hands feel like they are on fire.