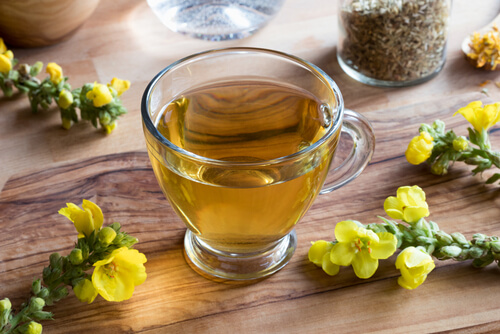 Mullein grows all across the United States, developing a tall stem that's almost four feet in height, with broad leaves forming a basal rosette around the plant. Walking up to mullein, you'll notice a slightly sweet, honey-like fragrance coming from the yellow flowers of the plant.
Mullein has potent therapeutic properties that come from the nectar and stamens of the plant. This woolly-leafed biennial also goes by the monikers of Candlewick, candle flower, and European or orange mullein.
Mullein has a long history as a herbal remedy used in the treatment of various adverse health conditions. The polyphenols found in mullein are effective at treating the symptoms of upper-respiratory tract infections, as well as digestive and skin issues.
The crushed dried flowers and leaves of the mullein make a fragrant, sweet-smelling tea bursting with flavor, and polyphenol antioxidants, that cleanse the bloodstream of free radicals. Here are eight medicinal uses of including mullein in your diet.
1. Mullein Tea
The leaves of mullein make a fantastic herbal tea with therapeutic benefits. Pick the leaves from the plant as the flowers start to show, and dry them in the sun for a few days until crisp. Crush the leaves and add them to your tea infuser.
We recommend you use two tablespoons of crushed leaves for three cups of tea. Add the infuser to your teapot and add hot water to brew. It's vital that you don't use boiling water in making your tea, as it may damage the beneficial polyphenol compounds in the tea leaves.
Let the tea leaves steep for 7-minutes for a strong brew, then drink it hot. You'll find mullein has a sweet, nectar-like flavor and refreshing aroma. Add some fresh lemon wedges to the tea for a citrus edge, or a teaspoon of raw honey if you like it sweeter. If you're a fan of iced tea, you can store your leftovers in the fridge for a few days.