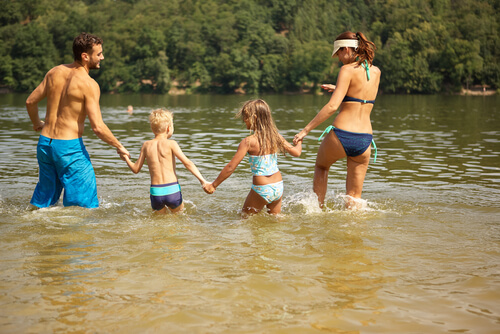 2. Freshwater Swimming
Most accounts of infection with brain-eating amoeba occur in bodies of still freshwater such as lakes or ponds. It's also more likely for you to contract it through swimming in bodies of freshwater that are still, such as lakes and ponds. While the amoeba can occur in rivers, it's less likely for you to contract the amoeba as the turbulence in the water reduces your chance of infection.
To date, there are no occurrences of people contracting brain-eating amoeba through swimming in saltwater sources, such as the ocean. Medical science believes that the amoeba cannot survive in saltwater and needs fresh water to thrive. Therefore, if you plan on going on vacation to the beach, you don't have to worry about contracting brain-eating amoeba.
People that are going swimming in freshwater sources should always wear a nose clip to limit the chances of brain-eating amoeba entering the nasal passages, and reaching the brain. This simple strategy is often more than enough to mitigate any risk involved with the infection.