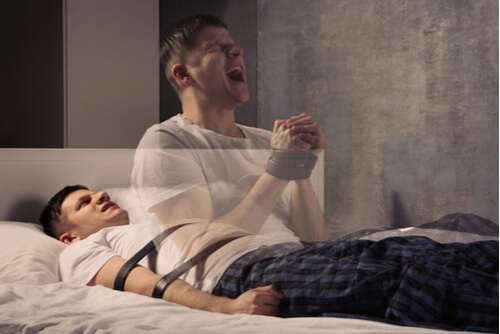 Sleep paralysis is often referred to as "old hag." It is actually a very common experience. However, this experience can be very frightening if you are not exactly sure what it is.
Sleep paralysis is when there are features of REM sleep while you are transitioning into or out of sleep. It can happen when you start to fall asleep or as you are waking up from sleep. It is estimated that about 20 percent of healthy people will experience this.
Many people will only experience sleep paralysis, but it may also occur along with other symptoms that are a part of narcolepsy. During rapid eye movement (REM) sleep, your mind is very active and can imagine sounds, sights, and other feelings during your dreams.
You may even feel scared. Your body is paralyzed during this time so that you do not act out during your dream state. Here are some of the other prevailing symptoms of sleep paralysis.
1. Paralyzation During Sleep Transitions
The most common trait of sleep paralysis is not being able to speak or move when transitioning from sleep. This can last for many minutes. Generally speaking, most people will still be able to move their eyes during this time.
There are some people who may try to scream out or call for help. This will typically only come out as a soft whisper if anything at all. During this time a person may only be able to grunt, whimper, or groan.
As your eyes can open, this feeling of not being able to move or talk can become quite overwhelming and even terrifying. Fortunately, for most people, the paralysis will only last for a few minutes before they once again gain their ability to move around and speak. This does not take away the fear that the person feels during this time.