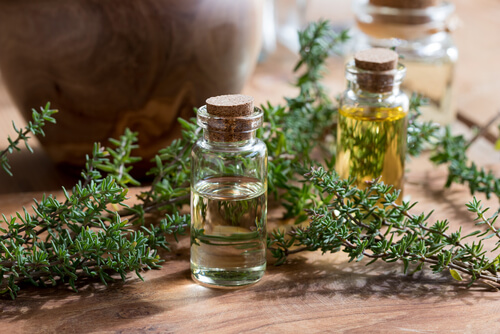 From embalming fluid to incense, the Ancient Greeks and Egyptians understood the healing power of the herb thyme. With over 400 subspecies, this fragrant relative of the mint family is now common in spice racks of restaurants and family homes across America.
Thyme has much more value than merely an herb to flavor your meals. Thyme extract shows promise in treating a variety of health problems, with its potent antimicrobial properties. The herb extract reduces inflammation and accelerates the healing process, which makes it useful in many homeopathic remedies.
If you're tired of spending money on OTC remedies that have side effects and don't deliver what they promise, try some thyme essential oil extract. Diffusing, or topical administration can have fantastic results in soothing the adverse symptoms and effects of inflammatory disease and allergies.
Here are eight benefits and uses of thyme, and how this herb deserves a place in your nutrition.

1. Reduce Blood Pressure
Persistent high blood pressure leads to a condition known as "hypertension." High-blood pressure problems are referred to as. "the silent killer," in the medical community. The reason for this moniker is that the symptoms of hypertension usually occur gradually over time, without the affected individual noticing the changes.
Hypertension can lead to numerous cardiovascular complications affecting the heart. Should a patient go undiagnosed and untreated, they run the risk of developing a heart attack. Fortunately, advances in medical science mean that doctors now can treat high blood pressure using medication and lifestyle changes to the patient.
Using thyme oil extract helps to assist in relieving symptoms of hypertension, such as high heart rate. The oil provides a soothing effect when used in diffusers and steam therapy applications. Add a few drops to a diffuser and leave it running overnight while you sleep. The steam enters the lungs where it travels through the bloodstream, providing relief from hypertension symptoms.