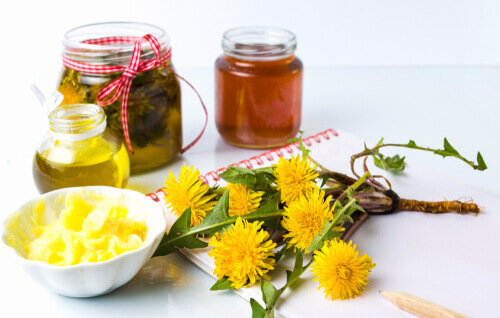 3. Dandelion Salve
Dandelion oil has many health benefits, and it's the build9ing block for many other dandelion home remedies. One of our favorite solutions involves using dandelion oil to make a salve. Salves are an excellent topical treatment for soothing the effects of a burn, and they also act as a unique topical administration to keep cuts and wounds clean and free from bacterial or viral infection.
To make the dandelion salve, you'll first need to mix a batch of the infused Oil as mentioned above. Take two ounces of beeswax and melt them over low heat on the stove. Add an ounce of dandelion oil and mix until blended. Pour the salve into jars and let it cool.
You can use the salve as a topical ointment for treating cuts, scrapes, and burns, and it also has a use for hydrating cracked lips and heels. The anti-inflammatory properties of dandelion provide relief from aching and painful joints, rub some salve on the problematic joint, and you should notice relief from your pain symptoms.