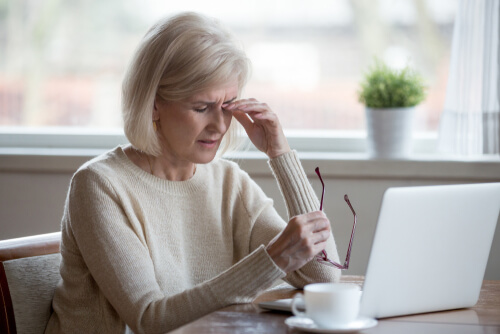 Many people have never heard of Sjogren's Disease, but it is not that rare; it is estimated that around 3% of the population may develop this autoimmune disorder that affects glands that secrete moisture, such as tear ducts and saliva. The cause is often genetic or the condition can result from the exposure to viruses or bacteria. It often arises in connection with the Epstein-Barr virus, HIV or along with rheumatoid arthritis.
The first symptoms usually are dryness in the mouth and the eyes, but there can be many other signs of this illness. There is no cure for Sjogren's disease, but there are many ways of treating uncomfortable symptoms, such as eye drops, and in some cases, saliva replacement. The majority of those who contract this disease are women over 40. A combination of the following symptoms may require a test for Sjogren's disease.

1. Dry Eyes
The most telltale sign of Sjogren's disease is dry eyes. Since the disease affects the tear ducts, one may feel like they are starting to cry and no tears come out. In addition, there may be discomfort in the eye and rapid blinking. Since dry eyes are quite common, depending on the time of year, particularly among people with allergies, this symptom is often dismissed by doctors unless other signs are present.
To test for Sjorgen's disease, a doctor may try to see how much moisture is in your eyes and examine your tear ducts. There are a number of things to do to ease this symptom. Eye drops are a good start to eliminate redness and increase the moisture in the eye. In extreme cases, artificial tears may be necessary. Since liquid in the eye protects it, it is important to find other ways to guard your eyes, such as wearing high quality sunglasses when outside.