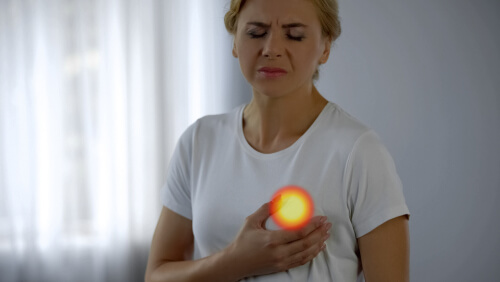 Breast cancer is an extremely serious condition, and we'd go as far as to say that it's every woman's worst nightmare – everyone has known at least one person who has survived breast cancer, and many people have been unfortunate to lose someone to breast cancer during the same lifetime.
It's not a pleasant thing to go through, but it's generally known that breast cancer is one of the cancers from which it is still possible to recover when the disease is caught in its early stages. If you think you might be suffering from breast cancer, go to the doctor rather than wonder about your symptoms for too long – if the disease is still caught early on, then your path to recovery is bound to be much shorter and easier than letting it wait.
And it doesn't just happen to women – many men have experienced breast cancer from a first-person perspective, too. Here are 8 symptoms of breast cancer that you should know.
1. Pain and Tenderness of Breasts
Sometimes pain and tenderness in the breasts can be a completely normal thing to expect when a women is nearing her monthly period – and this means that women come to expect the pain and tenderness that's associated with it, but you should always remember to take note of any changes in your body – especially in your breasts – when it falls outside of what you would normally expect from your cycle.
Sometimes this is simply due to some basic hormonal changes in the body, and it might just be happening because your cycle is closeby and might be occurring at a different time than you are used to – but you should consider any pain and tenderness in the breasts a cause for concern and keep a closer eye to see if you spot any other symptoms over time. When should you see your doctor? The moment you experience something unusual, check with your doctor just to be sure.