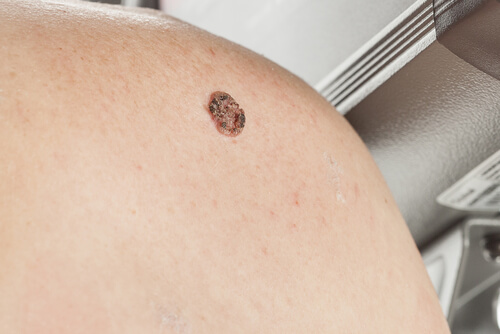 Skin growths are unsightly and in most cases, scare the living daylights out of anyone who notices them appearing on their body. Doctors diagnose more than 90,000 new cases of melanoma, also known as skin cancer, every year.

Men are most at risk of developing this terrifying skin condition. However, many people confuse melanoma with a skin condition called seborrheic keratosis – and it's easy to understand why when we take a look at the similarity in the appearance of the two disorders.

Seborrheic keratosis defines pigmented, superficial epithelial lesions on the surface of the skin. These growths occur slowly over the course of many years, with affected individuals often not noticing the disorder in its early stages.

Physicians and dermatologists remove seborrheic keratosis growths using one of three different methods. Cryotherapy freezes the lesion, causing it to die and fall off the skin. A similar treatment exists in electro-surgery, where the doctor uses electric current to remove the seborrheic keratosis. When all else fails, they turn to a scoop-like instrument to physically cut out the growth.

If you're concerned about growths on your skin, here are eight signs of seborrheic keratosis. Assess yourself and seek medical advice for treatment
1. Round or Oval Shaped Lesions

Individuals who are suffering from seborrheic keratosis, experience the growth of round or oval-shaped lesions on their skin. When first discovering the condition, it's typical for people to assume the worst and self-diagnose themselves with melanoma, an aggressive form of skin cancer that claims the lives of over 10,000 Americans each year.

If you find yourself noticing a growth on your skin, it's a prudent move to visit a dermatologist for diagnosis of your epidermis. Self-diagnosis almost always leads to the individual mistaking their condition for something worse than it is. So, get a professional opinion before you sign yourself up for chemotherapy.

Seborrheic keratosis is not cancerous and doesn't require you to start a course of cancer treatment. Most doctors can remove the growth or growths using painless removal techniques. If you choose to leave the growth alone, you won't have to worry about the lesion turning into melanoma.