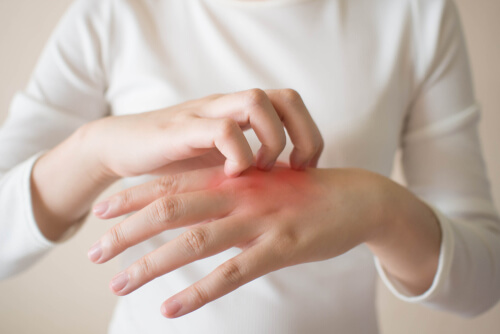 Prickly heat rash is a heat rash also known as Miliaria Rubra. It is a rash that causes the skin to turn red and sometimes itchy. Sometimes, though, some people won't even realize they have it. However, when they do realize it, they know it because, although it isn't supposed to be contagious, the blisters the rash can turn into if left untreated can also turn into pus-filled bumps that may become infected.
A prickly heat rash can happen after a few days of being overheated. This type of heat rash is called prickly because it often gives a feeling of prickly heat up and down your arms, neck, face, and legs. Prickly heat rash also occurs when your sweat glands become blocked and prevent your sweat from coming to the surface. There are a few different symptoms of prickly heat rash. Keep reading to learn about the different symptoms of prickly heat rash.
1. Redness of the skin
During the hot temperatures, and being out in the heat too long can cause prickly heat rash. Even sitting too close to a heater can cause this heat rash. Having the heat on too high during the colder months can cause it too. Once you get overheated, this can block the sweat from coming to the surface causing prickly heat rash. 
The first symptom you will find is the redness of the skin. Or, to be exact, red bumps will appear on the skin. This is the irritating beginning of the heat rash. The thing that starts it all.
You don't want to experience prickly heat rash because it is very irritating for your skin. Having your skin have tiny red bumps appear on it because of the heat rash can be very embarrassing as well. You will not want friends and family to see your rash so you will do whatever it takes to hide it from them.