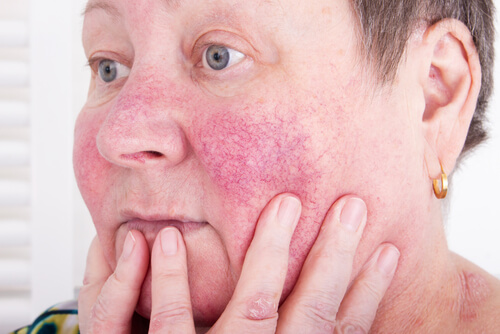 Rosacea is a disorder affecting the skin that causes redness around select areas, often along with small red bumps and pus-filled pimples. In some cases, the condition can cause the nose to swell.
Interestingly, the precise cause of rosacea is currently not fully known. It is generally thought however that this might be a general disorder of the blood vessels. Others suggest that it might be caused by skin mites, fungus, or psychological factors. It could also be an issue with connective tissues.
Interestingly, many people may have rosacea without realizing it! That's because the condition can vary significantly in terms of severity, and may be mistaken with general acne or redness.
With the condition being so hard to identify, how can you know if you are suffering from rosacea, or if the problem is, in fact, something else? In this post, we will take a look at 8 signs that you may have rosacea.
1. Redness
The most obvious symptom of rosacea is redness, which will often be focussed around the cheeks, the eyes, and the nose.
This redness might appear patchy and might look as though it is caused by acne. In fact, it will often be located underneath what looks like lots of tiny spots.
This is what can often lead to confusion and prevent people from recognizing that it is in fact rosacea and not acne.
The thing to recognize then is that regular acne should not cause redness that affects the entire area. It might look a little red around each spot, but there should be patches of normal colored skin in between the spots that don't look as though they're angry and enflamed.
This is the difference between the redness caused by acne and the redness caused by rosacea. Try to notice as well whether the redness is changing as the acne is changing: or is it a persistent problem that doesn't seem to be affected by anything else?