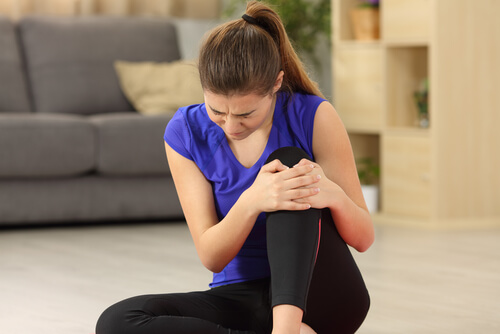 Bursitis is caused by damage to the bursae, which are liquid-filled sacs, are located between bones that form joints or the knee. This damage can be the result of repetitive strain on the knee from excessive bending or pressure, an injury to the actual bursa or the tendons surrounding the knees, an infection or an inflammatory condition, such as gout.
In addition, obesity can also be a contributing factor toward the development of bursitis, because extra weight can create a strain on the kneecap. The symptoms of bursitis can sometimes be similar to other conditions, such as gout, arthritis or tendonitis, but any of these problems can be contributing factors to the development of bursitis.
Warming up and cooling down after exercise, avoiding sudden movements and losing weight can help prevent the development of bursitis. If you have swelling, discomfort and tenderness to the touch, you may have bursitis.

1. Repeated or Sustained Pressure
If you have a job that requires constant bending, crouching or kneeling, you may be putting the kind of repeated pressure on your knees that, if you aren't careful, can lead to bursitis. It isn't just a major trauma or injury that can affect the area under the knee, but repeated, minor tears and other forms of stress and strain.
If you are seeing the first signs of bursitis or want to prevent it from happening, it is helpful to control the range of motion of your knee when kneeling or crouching and to strengthen the muscles alongside the kneecap.
Prevent excessive or sudden movement around the knee by kneeling gradually and avoid needless and quick turning. Talk to a physical therapist on how you can strengthen your quadriceps, hamstrings and other muscles that support the knee. Keeping the muscles in the area above the knee and thigh strong can prevent injury.