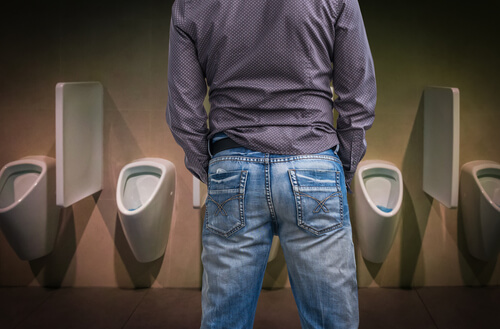 Paraphimosis occurs when the foreskin becomes stuck. The foreskin has been tucked too far behind the end of the penis. With paraphimosis, the following will occur, including, fluid builds up, the penis swells, and the foreskin is unable to go back to its original position. Paraphimosis is painful and the only way to get relief is by going to a medical professional. It is important to seek medical treatment right away. If you fail to get medical treatment, it can affect how the blood flows to the tip of the penis. It's rare for the tip of the penis to get lost or damaged.
Paraphimosis can be cured manually, but if not, minor surgery is needed. Personal hygiene can prevent paraphimosis. Men tend to have a bad habit of not cleaning their penis the correct way. The penis needs to be cleaned thoroughly with warm water and soap as often as possible.
Here are eight frequent symptoms of paraphimosis.
1. Inability to urinate is a frequent symptom of paraphimosis.
It will be painful to urinate. You may experience some burning as well. The swelling and pain are causing the inability to urinate. Ice the area for 10 to 15 minutes several times a day. Always put a clean cloth on the affected area before placing the ice. It can irritate the skin if you don't. Once the swelling goes away, you should start to urinate. Since you haven't urinated in a while, you may have cramps in your lower back.
The cramps will go away once you're able to urinate. If the icing doesn't work, you'll need to seek treatment at the doctor's office. Your doctor will try a number of things to help you to urinate. Your foreskin is stuck, so the doctor will try to put it back to its original position. It may be painful at first, but it could help.