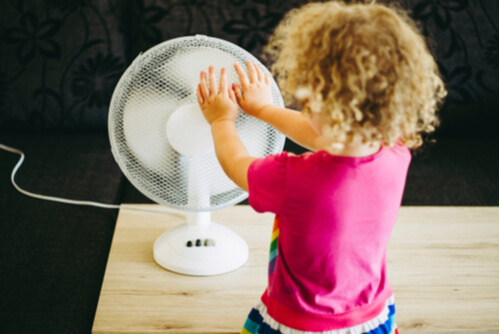 A prickly heat rash is a skin condition that arises whenever your body is exposed to high temperatures or sweats excessively. Various conditions can put you at a high risk of developing prickly heat rashes. Diabetes patients, for instance, are at a higher risk of developing prickly heat rashes because they sweat a lot whenever their glucose levels drop too low. Those who are dealing with a case of pneumonia are also more prone to prickly heat rashes due to the high fever and sweating they experience.
Newborns have a particularly high risk because their sweat ducts haven't matured yet. There have been cases of incubated newborns developing a prickly heat rash due to the higher temperatures inside the incubator. Regardless of what caused the rash, there are a few home remedies that you can use to relieve it. Today we're going to take you through eight of the most effective ones.
1. Fans
The easiest way to treat a prickly heat rash is by providing sufficient ventilation to the affected area. Getting enough area there can also ensure that the condition doesn't worsen. Electric fans are great for this. While ceiling fans can also help, it's advised that you get a smaller electric fan that you can put on a chair next to your bed.
The direct airflow will treat your prickly heat rash faster than the ventilation from a ceiling fan would. Most fans won't cost you more than $10 to $20 even when you buy from quality manufacturers. The fan can also ward off mosquitos if you're residing in a tropical climate reducing the odds of you coming down with malaria — a prominent risk factor for prickly heat rash due to the fever and sweating that it causes.