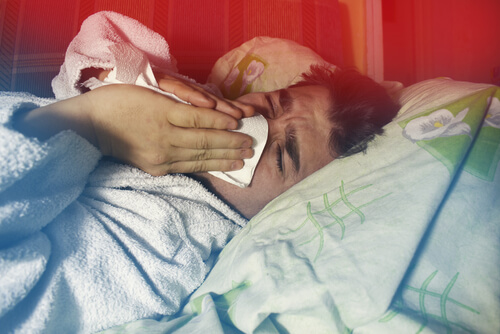 Pneumonia affects millions of people around the globe every year, with children most at risk of developing a life-threatening condition as a result of the infection. UNICEF statistics show that pneumonia accounts for 16-percent of the 5.6 million deaths in children under the age of five years old.
Adults are also at risk of developing the condition. Pneumonia occurs when bacteria, viruses, or fungi enter the lungs. The purulent material inflames the air-sacs, filling them with phlegm and pus that produces violent coughing fits. Sputum from coughing may contain bright-yellow mucus with dark spots of pus. Pneumonia requires immediate medical intervention to prevent the condition from scarring or collapsing the lungs.
Individuals with pneumonia may experience other symptoms such as low fever, chills, labored breathing, and fatigue. Patients that receive treatment early typically make a full recovery in a week or two. However, if left unchecked, pneumonia can cause severe health complications involving the respiratory system.

1. Bacteria and Viruses
The majority of pneumonia cases come from the bacteria known as "Streptococcus pneumonia," (pneumococcus.) This bacterium invades your body after a bout of the flu when your immune system is weak. The bacteria typically infect one side of the lung, a condition named "lobar pneumonia." It's important to note that streptococcus pneumonia can also take up residence in your lungs without any previous sign of infection or disease, such as the flu.
Mycoplasma pneumonia is another form of the condition that leads to atypical pneumonia in adults and children alike. This infection is seasonal and generally occurs in the winter and summer months. Medical professionals treat bacterial pneumonia infections using antibiotics, and most people make a full recovery from the disease.
Viral forms of pneumonia are far more aggressive than the bacterial type and treatment with antibiotics doesn't work to prevent the spread of the disease in the lungs. Viruses that inflict pneumonia include; adenoviruses, rhinovirus, respiratory syncytial virus, influenza, and parainfluenza.