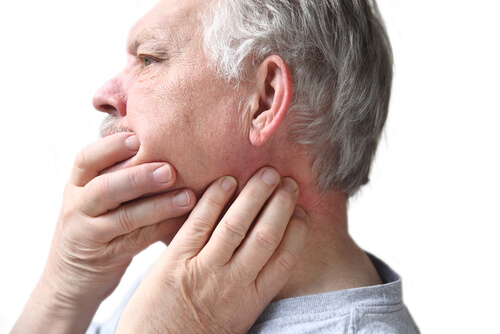 Lymphoma is a type of cancer that affects the lymph nodes. It is the most common type of blood cancer in the United States. This type of cancer interferes with the development of healthy white blood cells and produces cancerous cells in their place. White blood cells are responsible for fighting off germs and infections, and those who experience melanoma may have a higher incidence of infection and illness and lowered immunity.
There are four phases of lymphoma, and symptoms vary according to what phase the patient is in. Some people will experience many symptoms of the disease whereas others may feel a few of them. Swollen lymph nodes, however, are present in all types of lymphoma. Night sweats and itching are also characteristic of lymphoma.
In addition, the treatment, including chemotherapy and radiation also carry side effects. The following is a list of common symptoms of lymphoma and why they occur.
1. Swollen Lymph Nodes

The main symptom of Non-Hodgkin lymphoma is swollen lymph nodes. This can happen early on and is one of the first signs. Often, these swollen lymph nodes are mistaken for something else, such as an internal infection. The main areas of swelling include the underarm, above the collarbone, the groin and the neck.
Lymph nodes, which release white blood cells, can swell when they are functioning properly or when they are malfunctioning. If they swell because of an infection, they are producing more white blood cells. However, they can also grow larger because of the growth of cancerous cells. In the case of an infection, the swelling goes down in a couple of weeks.
Swollen nodes caused by lymphoma are rubbery, tend to move when pressed and are painless. If you have swollen lymph nodes that do not go down in 3 weeks, it is essential to see a doctor.