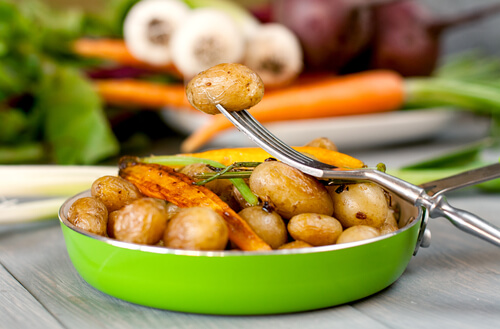 Sure, that pizza tasted great – but now you're dealing with the onset of bloating and gas that leads you rushing to the bathroom for relief. Gluten intolerance affects hundreds of thousands of people in the United States, with some people suffering from celiac disease, a digestive disorder where the gastrointestinal system becomes allergic to gluten proteins found in wheat, barley, and rye.

Walk into any store to do your grocery shopping, and you'll see gluten listed in the ingredients of a wide variety of foods, from bread to cereals. However, more food brands are introducing gluten-free options for consumers that have issues digesting this protein.

If you have a mild or severe allergy to gluten, it's best that you avoid all variations of this protein and stick to foods that won't upset your digestive system. We put together this list of eight healthy gluten-free foods to add to your shopping list this week.
1. Potatoes

Since gluten only occurs in grain-based food products, it's safe for individuals with an intolerance to the protein to consume potatoes. These tubers contain starch, a healthy carbohydrate that burns slowly in the body, providing a sustained release of energy throughout the day. This vegetable is an excellent source of dietary fiber that sweeps your digestive system clean of undigested food.

White potatoes contain a significant amount of carbs, with 37-grams in one serving. White potatoes taste great when mashed, boiled, or baked – and it will please you to find out that potato chips also contain no gluten, although the trans-saturated fats found in the snack food probably isn't the best thing for your health.

Sweet potatoes are another tuber worthy of inclusion in your gluten-free diet. Sweet potatoes and yams contain significantly less carbohydrate compared to white potatoes, with around 7-grams per serving. They are the ideal choice for anyone on a low-carb diet that's trying to lose body fat.