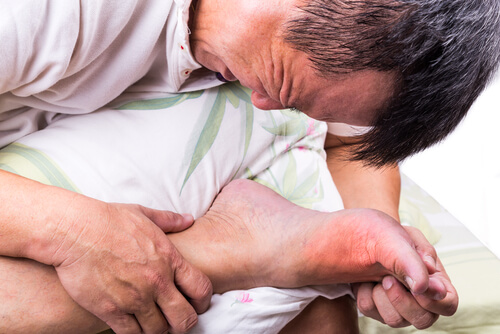 Gout is a serious condition that can cause a lot of pain and discomfort for sufferers. Gout is a form of arthritis and even goes under the name 'gouty arthritis', though it has some unique features that make it markedly different from other forms.
Gout is most common in men and appears to be caused primarily by dietary factors. The result is that uric acids collect around the joints where they can cause pain and discomfort. These high levels of uric acid are referred to as hyperuricemia, though interestingly not everyone with high uric acid levels will develop gout symptoms.
Gout will affect patients often in waves, resulting in 'gout attacks' that leave them experiencing particularly severe symptoms for short periods.
So could you be suffering from gout? Read on to discover 21 of the most common symptoms of gout.
1.  Painful Toes
Pain in the toes – and especially the big toe – is one of the most notable symptoms that can indicate gout and this is something that sufferers will know all too well. Gout is the result of high levels of uric acid as we have already seen and it's the build-up of this substance that leads to pain. The toes are among the most common places where this can happen and especially on the knuckle. If you struggle to bend your big toe or find yourself limping, this may be something you want to flag up with your doctor.