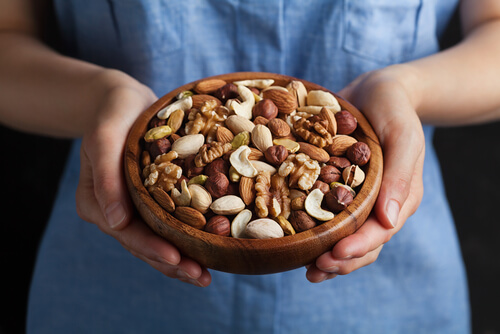 Calcium binds to oxalate in the body and starts to form calcium oxalate. Foods containing high levels of oxalates exacerbate this process, especially in people that have a sensitivity to oxalates. In 75-percent of kidney stone cases, oxalates are responsible for the condition.

When concentrations of calcium oxalate in the blood become higher than usual, our kidneys become overwhelmed and, as a result, they fail to excrete all of the particles. The leftover crystals begin to form kidney stones, and after a few weeks or months, you'll start to experience the symptoms of this condition, which include throbbing pain in the middle to the lower area of the back.

Medical science recommends we lower our intake of foods containing oxalate, with guidelines stating that recommended daily intake be between 40 to 50-milligrams. People who develop kidney stones are typically at risk of developing new stones within 10-years after passing them through urine.
1. Nuts and Nut Butter

Nuts contain healthy monounsaturated and polyunsaturated fats, providing us with a slow-burning energy source. Almonds, macadamias, walnuts, brazil nuts, and pecans are rich in vitamins, Omega-3 essential fatty acids, trace minerals, oils, and lecithin. Add some to a trail mix and take it on the road for a quick, healthy snack.

However, nuts are naturally high in levels of oxalates that form kidney stones as well. This fact doesn't mean that nuts can't have a place in your diet – but you need to be careful about the amount you eat. Many people on a low-carb diet choose to eat nuts due to their high-fat content and calorie-dense source of healthy nutrition. Unfortunately, many people lack variety in their food and often eat way too many nuts throughout the day.

As a result, excess oxalates combine with calcium to form kidney stones. Anyone who's experienced the pain of passing a stone will tell you that going low-carb isn't worth the hassle if you have to worry about developing kidney stones.