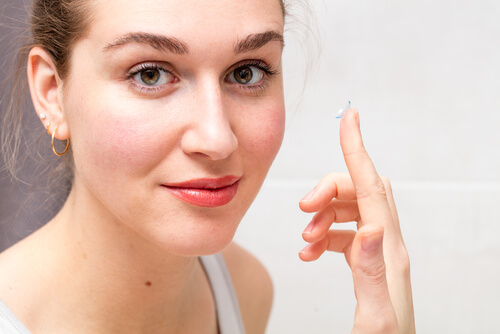 Keratitis is an inflammation of the cornea, the clear, dome-shaped, outermost layer of the eyeball. The cornea covers the pupil and iris and shields them from dirt, debris, and other potentially damaging contaminants; it also plays a role in vision, as it allows the eyes to focus and see clearly. The cornea can become damaged or infected, which can lead to inflammation and swelling, a condition that is known as keratitis.
There are two main types of keratitis: infectious and noninfectious. Each type can be caused by a number of factors, including injuries, foreign objects, allergies, wearing dirty contact lenses, and even makeup.
Keratitis can cause a number of symptoms, including redness, irritation, tearing, weeping, swelling of the eye, blurred vision, light sensitivity, and pain. Fortunately, there are ways to prevent the development of this common eye condition, and there are natural remedies that can be used to treat it.
1. Use contacts correctly.
If you wear contact lenses, you are at an increased risk of developing keratitis. Contact lenses can pick up bacteria, viruses, and funguses, which can then enter the eye, infect the cornea, and cause keratitis. Additionally, wearing contact lenses for prolonged periods of time can prevent the eyes from naturally cleansing themselves, which can also increase the chances of developing this condition.
If you wear contact lenses, to avoid keratitis, make sure you are using them responsibly. Never wear them for extended periods of time; even if they are advertised as "long-wear" contacts. Also, make sure that they are stored properly and that you wash them on a regular basis.
If your contacts become torn or are otherwise damaged, make sure that you replace them; when contacts are damaged, your cornea can become scratched, swollen, and inflamed, which can lead to the development of keratitis.