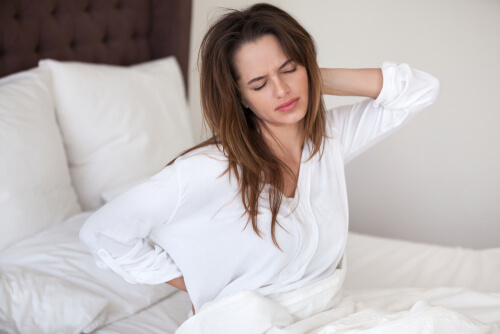 Your lumbar spine is your lower back. More specifically the vertebrae known as L1-L5. Lordosis is the slight curve directly above the buttocks. Some lordosis is totally normal; however, a pronounced curve can cause issues that can impact your entire body. Hyperlordosis is a spine curvature disorder.
Lumbar lordosis can be congenital or genetic or caused by other things such as being overweight or pregnant. It can be the result of other conditions like muscular dystrophy or dwarfism. It can be treated to some extent with exercise, physical therapy, a back brace or surgery. There is no cure for adults. If a child is diagnosed with juvenile lumbar lordosis it will get better as the child grows.
The pain caused by lumbar lordosis can impact virtually every aspect of your life. From sleep disturbance to overall mobility it is a disorder that needs to be recognized and addressed.
Here are the eight most common symptoms of lumbar lordosis that you should know about.
1. Back Pain
Back pain affects everybody from time to time but with lumbar lordosis, pain can be constant and debilitating. The pain is caused by the misalignment of the spine and the resulting muscle spasms.  Muscles spasm because they are too tight and being pulled in an unnatural direction. Lumbar lordosis can't be cured but the pain can be treated so that you can live an enjoyable life.
The pain from lumbar lordosis can be a dull ache or a sharp stabbing sensation. If you suffer from back pain and you feel that your spine has a pronounced curve, it isn't normal and you may be able to find relief. Seek help. Get an x-ray. A doctor will be able to determine the state of your spine, rule out any other more serious issues and recommend a treatment plan.
It is best to avoid the use of pain medication, especially opioids, which don't address the underlying issue of misalignment. Masking the pain doesn't solve the overall problem and could lead to addiction.