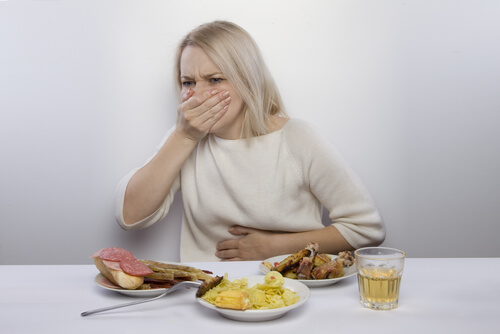 2. You Can't Stomach Some Foods
When the stomach is irritated, that makes it is hard to tolerate a variety of different foods. You may notice you can eat about anything but still have symptoms like feeling as if you're going to throw up actual vomiting, or changes in bathroom habits.
Behcet's can cause ulcers to appear in the stomach and digestive tract, which exposes sensitive parts of the stomach to harsh foods. Normally your stomach is covered in a protective lining of mucus that keeps acid and spice from affecting the lining, but if you have sores or ulcers from this disease, that usual lining might not do enough to protect you from discomfort. 
If spicy, fatty, fried, acidic, or extremely salty foods affect your stomach, then that can be a sign of the disease. You may notice problems with foods like tomato sauce, orange juice, or spicy chicken wings for example.