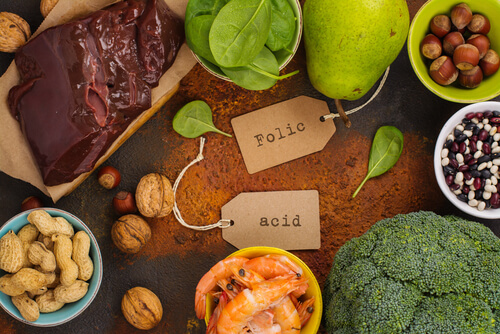 A folate deficiency is a deficiency caused by a lack of folic acid. Folic acid is another name for Vitamin B9. Folic acid or Vitamin B9 works with Vitamin B12 and Vitamin C to help the body break down, make, and use new proteins. It also helps create red and white blood cells in your body. Folic acid even helps make DNA, which is the building block of the body that carries our genetic information.
Because folic acid is a water-soluble vitamin, it is not stored within the fat tissue in your body. And, for this reason, any leftover amounts of it can exit when you urinate. Also, since folate is not stored within the body in large amounts, your body can become deficient in it if your diet is low in folic acid. Green leafy vegetables and liver are foods that are rich in folic acid.
There are many different known causes of folate deficiency including the following.
1. Not enough Folic Acid in your Diet
If you are not eating the right foods with high amounts of folic acid in them, you will end up with a folate deficiency. The best foods with folic acid in them include broccoli, chickpeas, asparagus, brown rice, and Brussel sprouts. Eating the right amount of many of these foods, even a variety of them, will provide you with the proper amount of folic acid to prevent a folate deficiency. 
Those who tend to end up with a folate deficiency because of their diet are those who eat unhealthy foods a lot of the time or even people who are on weight-loss diets or fad diets.
You can easily get these delicious foods in your diet by eating some a few times per day without overdoing it and still losing the weight you want to lose. Most of these are vegetables, which are good for you for losing weight, as well as maintaining a healthy weight.