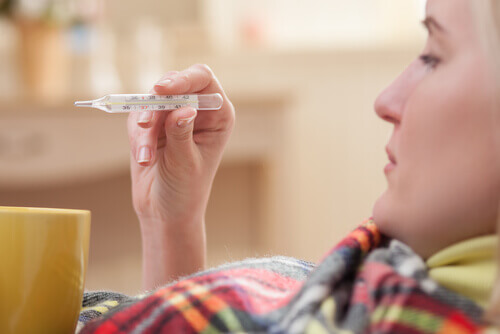 Klebsiella pneumoniae is a bacteria that lives in the feces and intestines. When the bacteria are in the intestines, it's not harmful to the body. On the other hand, if it spreads to another part of the body it can become a serious infection. The risk becomes higher when you're ill. There are many parts of the body that Klebsiella pneumoniae can affect, including the liver, brain, eyes, and lungs. When it comes to the location of the infection, it depends on what symptoms you are experiencing.
Healthy people don't get the infection. It's individuals who have a weak immune system because of the long-time use of antibiotics or a medical condition. Antibiotics can cure the infection if the lungs are not weak. Some people's bodies can't take regular antibiotics. People with weak immune systems may need a stronger antibiotic to clear the infection.
There are eight frequent symptoms of Klebsiella pneumoniae.
1. Fever is one of the frequent symptoms of Klebsiella pneumoniae.
The fever can come on all of a sudden. It occurs when pneumonia occurs. In order to get the fever down, over-the-counter pain relievers will need to be taken, such as Tylenol and Motrin. They shouldn't be taken long-term. If the fever becomes worse, take the person to the doctor. If it's not severe, the doctor will prescribe medication to get rid of the fever. On the other hand, hospitalization is needed because the fever can get worse. It can make the person feel sicker.
A fever that's too high needs to be treated at the hospital. The person will have to stay in the hospital until the fever goes completely down. While in the hospital, IV fluids will be given, so that the person doesn't become dehydrated.
A lot of the times when a person has a fever, he or she doesn't have the strength to eat or drink anything.