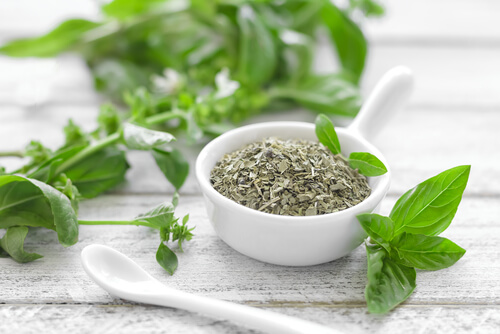 Basil is an herb that is paired with many dishes, including tomatoes and pasta dishes. When cooking with basil it's always good to chop it up in smaller pieces to make the most of the dish. When you eat basil, you're getting many health benefits.
There are eight uses of basil that go beyond cooking that you may have never known of. Instead of buying expensive products for an ailment, you'd be better off using basil. It's inexpensive and you can buy as much as you want. It is a natural product and when you're suffering from certain ailments, it's best to use the product with fewer chemicals. The good thing about basil is that it only contains 22 calories per 100 grams. Basil also contains essential oils that are good for the body on the inside and out. For instance, basil has inflammation and antibacterial properties that you would benefit from.
1. Basil
Basil is good for headaches. It is considered a muscle relaxant, so steaming it will give you the most benefit. You can also use basil oil and another base oil and apply both oils to the temples. Massage the temples or wherever the pain is at and the headache should cease. When it comes to steaming, get a pan of hot water and place the basil in the pan.
There is no need to cut the basil up. With a clean towel, put the towel over your head while you place your face over the pan. Don't let your face get too close to the pan because it could burn your face. You want the water to be hot, but not boiling. Let the steam rise in your nose for about 10 to 15 minutes. The basil scent going up your nose may feel funny at first, but it'll work. Your headache should go away.