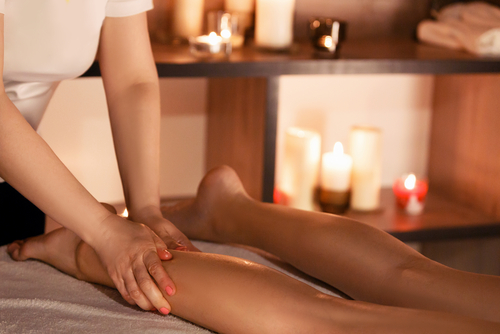 2. Use Essential Oils
There are many different brands and types of essential oils available from your online health retailer. Essential oils are affordable, and they produce excellent results for soothing the symptoms of a distressed CNS, eliminating your leg cramps.
Using essential oils with nervine properties, such as red clover oil and frankincense oil, helps to soothe the nervous system, and reduce inflammation. You can add a few drops of both of these oils to your hot bath water along with the Epsom salts.
Relax and breathe in the warm steam. The polyphenol found in essential oils release into the vapor, and you breathe them into your lungs, reaping the benefits. Alternatively, you can add the oil to the reservoir of a diffuser along with some purified water.
Run the diffuser in your bedroom overnight. This treatment provides the same effect as lying in the bath, but for a more extended period. Using this strategy gives you greater exposure to the beneficial polyphenols in the essential oil.