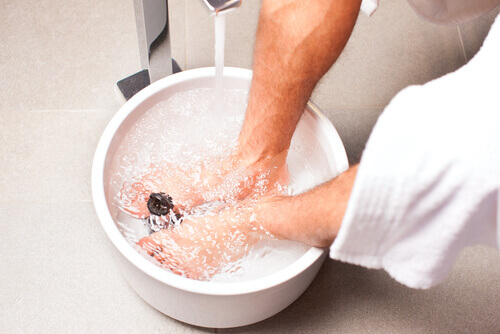 According to studies published by the American Family Physician, night-time leg cramps affect up to 60-percent of Americans. A nocturnal leg cramp is an extremely uncomfortable and painful experience to endure.
These cramps can occur while you are sleeping or lying awake in bed. Most patients report a slight increase in tension in the calve muscle before the cramp starts. The pressure suddenly escalates, and you feel a sharp cramping pain in the calve, that causes your toes to curl.
This involuntary cramp comes on suddenly and may last for as long as ten to 20-minutes before the muscle starts to relax, and the pain subsides. The calve muscle may feel stiff and sore the following day.
The pain is tense, and many patients succumb to the effects of the pain, not knowing how to relieve the results of the cramp. Here are eight methods you can use to stop nocturnal leg cramps.

1. Soak in Epsom Salts Before Bed
Cramping can occur for a variety of reasons. Athletes that spend too much time practicing on the track may end up overtraining their nervous system. When the CNS experiences overstimulation, it turns to survival mode, resulting in the athlete having a higher chance of incurring an injury.
Recovering from exercise is essential to reset the nervous system, allowing the athlete to perform at their peak. Those athletes that reach a state of overtraining and continue to overstimulate the CNS are asking for trouble.
One of the most affordable and useful recovery tools available – is Epsom salts. This natural remedy is a rich source of magnesium. This mineral is essential for repairing muscle and removing inflammation.
Run a bath and add two cups of Epsom salts to the water. Relax in your tub for 15 to 25-minutes to allow your skin to absorb the magnesium. Follow this strategy for a few nights in a row until your cramps disappear.