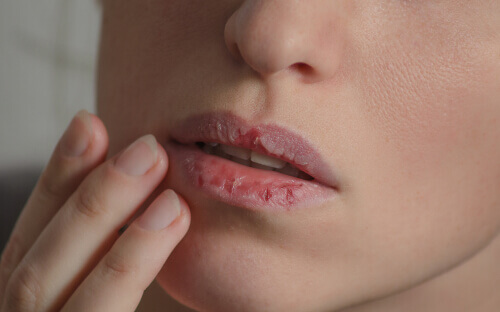 3. Inflammation
Inflammation of the lips is a hallmark symptom of angular cheilitis, and responsible for the swelling and cracking of the lips. When Candida bacteria or fungus infects the mouth, due to an oral thrush infection – it can spread to the lips as well, causing angular cheilitis.
The inflammation from angular cheilitis starts slowly, presenting a rough, painful feeling on the edge of the lips that causes the affected person to lick their lips more often. As a result, they spread the bacteria or fungi onto the lips, where it begins to multiply in the corners of the mouth.
If left untreated, the patient may start to develop symptoms of severe skin inflammation around the lips, causing the lips to swell well past their usual size. The inflamed tissues are more sensitive to light and heat in this start, and walking in the intense midday sun may significantly exacerbate symptoms due to overexposure.