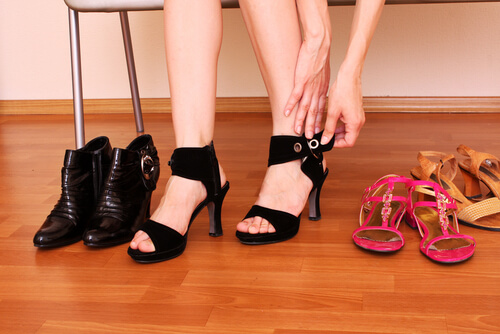 2. Footwear Choices
The type of shoes you choose to wear every day plays a significant role in the health of your feet. Professional women may feel they need to wear high-heel shoes to the office to meet international dress code standards for business. Unfortunately, high-heels are terrible for the health of your feet.
The elevated heel places pressure on the front of the foot, and the pointy toe-box found in these types of shoes compresses the tows together, leading to a variety of adverse structural and nerve disorders in the foot. Morton's neuroma, hammertoes, and bunions are a few examples of painful disorders affecting the feet through the use of high-heel shoes.
People that like to wear sandals may also find that their heel pad starts to wear thin, and they may lose structural integrity in their feet, resulting in the development of fallen arches or "flat feet." This development exposes these individuals to the risk of developing heel pain from plantar fasciitis.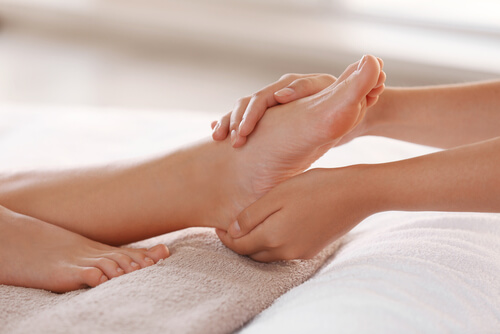 3. Stretch and Massage Your Feet
Tendonitis and joint issues cause a limitation on the range of motion available for your joints and ligaments. As the tendons thicken, they reduce your mobility, limiting the way you can flex and bend your foot at the ankle joint and toes.
Stretching and massage therapy helps to keep your tendons and muscles loose. Many of the issues causing tendonitis of the plantar fascia and Achilles tendon involve complications with the calve muscle. The Achilles and peroneal tendons run from the knee, through the calve, and attach to the ankle or the side of the foot respectively.
Massaging the calve muscle with a specific technique may help to loosen up your calves and reduce inflammation of these ligaments, reducing symptoms of heel pain. Visit your massage therapist two times a week until you start to see relief from your sessions, then limit your visits to once a week. Purchasing a home-massage tool, such as the "Thera-gun," can help you massage your calves and feet at home, without spending the money on a physiotherapist.