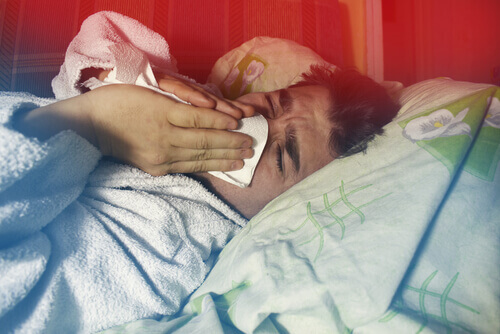 Diphtheria is a bacterial infection that can be quite serious. It will most often affect the mucous membranes located in the throat and the nose. There are several symptoms of diphtheria and unfortunately, they mimic those of the common cold and even the flu. However, the main sign of diphtheria is a grayish colored material that is thick and covers the back of the throat.
If this is left untreated it can block the airway, making it hard to breathe. Fortunately, in the United States, diphtheria is rather rare. It is also not common in other developed countries. This is because of vaccination against the disease.
There are medications available that can help to treat diphtheria. However, if not treated quickly and sometimes even with treatment, diphtheria can become deadly. Nearly three percent of people infected die from it.
This rate is higher in children who are under the age of fifteen. For this reason it is important to know some of the common signs of the disease.
1. Nasal Congestion
When your nose is feeling stuffed up, chances are that you do not think much about it. If your child has a stuffy nose, you likely will write it off as being caused by a cold or other type of virus and will not worry too much about it. However, during the early stages of diphtheria, a child may develop a runny nose and sneezing quite often.
Often times, when it is diphtheria that is causing the runny nose and sneezing, over the counter medications will not provide any type of relief. Diphtheria can be spread through the mucus.
The bacteria may remain contagious in the mucus for several hours after a sneeze or after contact with another individual. This is why it is important to make sure that you are washing not only your hands, but your child's hands frequently when they are ill as this is the best way to help prevent the disease from spreading.