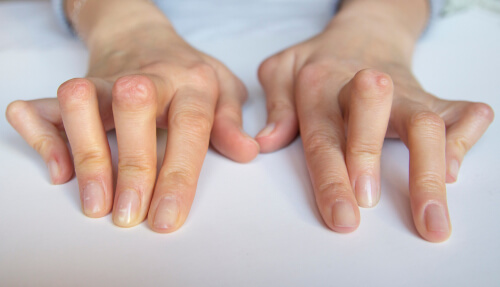 Heberden's nodes are bony growth swellings that will appear in the hands of patients who suffer from osteoarthritis. These nodes were named after the person who explained the science behind these swellings — William Heberden, Sr. You'll find that Heberden's nodes form on the joint that is furthest up on the finger and thus closest to the fingertip. Those that form on the lower joints are referred to as Bouchard's nodes.
As we've mentioned, this occur as a result of osteoarthritis thus the causes of both conditions line up perfectly. If you want to avoid Heberden's nodes and osteoarthritis then you have to be aware of what causes them in the first place. Of course, there are far too many factors to mention individually so we're going to focus on eight of the most common ones. Let's get right into it.
1. Genetics
What you might not know is that osteoarthritis is actually hereditary. If someone in your family had the condition then you're at a higher risk of developing it later on in your life. That being said it's not a guarantee so you don't have to hit the panic button just because your great uncle had it. You should still check on your family history though so that you can be aware of the conditions that run in your bloodline.
If osteoarthritis is one of them then at least you'll have enough time to take preventative measures such as regular exercise and proper diet to protect yourself from osteoarthritis and Heberden's nodes as a result. In addition to getting your family medical history from the hospital, you should also ask your parents about it to hear what they have to say. There may be some conditions not noted in the family history that your parents know about.