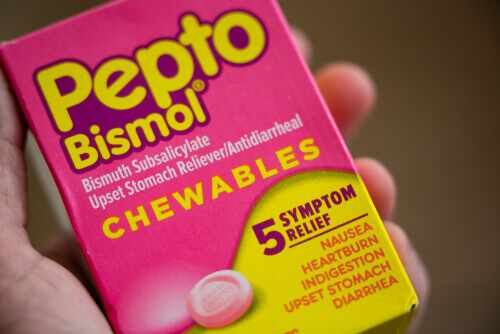 2. Pepto Bismol
If you are in transit when traveler's diarrhea strikes, one of the best home remedies to date is a dose of Pepto Bismol. The bismuth subsalicylate which is the active ingredient in this over the counter medication helps to soothe irritated stomach tissues and will destroy some of the harmful bacteria. Pepto Bismol comes in both liquid and tablet form, both of which are equally effective in treating traveler's diarrhea.
One thing to keep in mind, Pepto Bismol is not intended for anyone who has an allergy or sensitivity to aspirin as there is a certain amount in the mixture. Pepto Bismol is also not suitable for treating traveler's diarrhea in children. Pepto Bismol should only be taken for traveler's diarrhea if the patient is over the age of 18.
Similar medications that restrict stool flow such as Lomotil or Immodium are recommended for traveler's diarrhea unless prescribed by a physician.