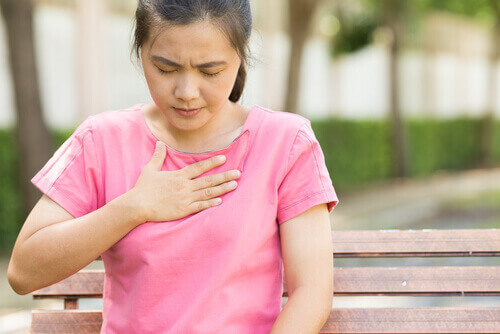 Aspergillus mold is known as an opportunistic pathogen because it targets hosts that are especially vulnerable. Often, you'll find that opportunistic diseases manifest in the elderly or children. However, aspergillus has been known to infect adults from the age of 20-40 without a problem. So, what gives? Well, the mold actually targets hosts not based on age but on the basis of existing pulmonary conditions — which is simply a fancy term for lung diseases.
Those with tuberculosis, asthma, cystic fibrosis, emphysema, and a variety of other pulmonary conditions are at a much higher risk for developing adverse reactions to aspergillus after being exposed to it. The spores of the mold can also trigger an allergic reaction for some people. Today we're going to take you through eight common signs of aspergillus exposure.
1. Chest pain
Chest pain is one of the most common symptoms that people will experience after being exposed to aspergillus. Patients with an existing condition such as tuberculosis or emphysema may have air cavities in their lungs that formed due to the disease. If this is the case, the aspergillus mold can invade these spaces in the lungs and form clusters known colloquially as fungus balls.
These clusters may be asymptomatic at first, but if they remain untreated then various reactions could occur including chest pain. They can also accelerate the progression of the underlying condition if they aren't dealt with in due time.
Some patients with pulmonary conditions also suffer from other ailments that could cause chest pain making it difficult to detect a case of aspergillosis. In those situations, the easiest way to solve the mystery would be to keep a lookout for other symptoms on this list.