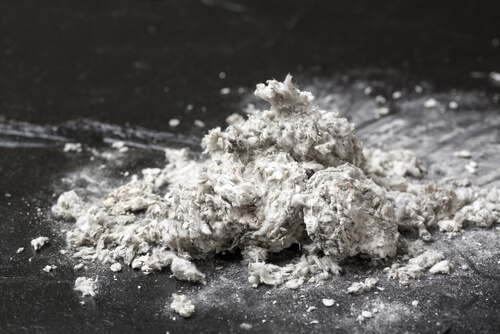 2. Asbestos fibers
Asbestos has long been labeled a health risk due to the fact that it can cause lung cancer, but did you know that it can also be one of the causes of pulmonary fibrosis? The term asbestos actually refers to a group of fibers rather than a single fiber. There are six in total, all naturally occurring, and needle-like in shape.
While it does have the application of adding strength to various materials and fireproofing them, it is banned in many countries due to the health risks it presents. It's not banned in the US, however.
Anyone with prolonged exposure to these asbestos fibers could suffer from lung damage. The damage to their lung tissue will develop scars that could cause pulmonary fibrosis. The resilience of asbestos fibers is the very reason that they're so dangerous. Once asbestos dust is inhaled, it can remain in the lungs forever, causing damage with every passing day.