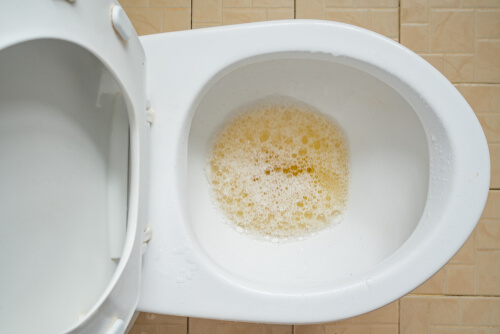 Urine – the by-product of the metabolism of humans and other animals. It is sometimes called "pee". It is a liquid waste processed by our kidneys mainly made of water, salt, electrolytes such as potassium, phosphorus, and chemicals called urea and uric acid. A clear, transparent fluid that normally is in amber color.
The kidneys make the urine by filtering process to flush out toxins, excess water, and other bad stuff or materials in your blood. Your blood carries it to the kidneys. From the kidneys, urine travels down two thin tubes called ureters to the bladder. The bladder helps you store your urine until the time your brain sends a signal that you need to urinate. The urine must be transparent however, you might need close attention to distinguish the difference in your urine when it became cloudy and foamy.
Listed below are the common causes of bubbly or foamy urine.
1. Speed of Urination

Forcing urine to come out or urinating too quickly can contribute to the bubbly appearance of the urine. It affects how fast the urinary stream is and how far the urine has to travel before hitting the toilet. Just as the water foams up when it comes out from the tap sources, just like urine when it hits the toilet real quick.
Please take note that this kind of foam should quickly clear up or totally disappear in just a few minutes. If the foams did not clear up immediately, maybe it is time for you to re-check and re-evaluate yourself, your health, your lifestyle, especially the food, fluids or beverages you are taking 'cause it affects you in so many ways and the overall processes in your system. Let the doctor check you if you need to. There might be some underlying causes that may lead you to unexpected disease.