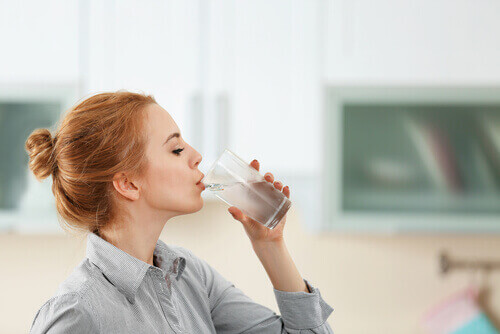 Constipation is a common issue. It is thought that about 20 percent of people in the United States suffer from this ailment. There are many things that may cause a person to become constipated. The foods that you eat, the foods that you avoid, medications, diseases, and lifestyle choices are all common causes of constipation. For many people, the reason for their chronic constipation is simply not known.
Constipation refers to having three or fewer bowel movements each week. There are some unpleasant symptoms that come with chronic constipation. This includes discomfort when using the bathroom, pain from stools being hard, and abdominal bloating. Constipation can have a negative impact on your quality life including your mental and physical health. There are several natural ways to help alleviate the symptoms of constipation. Here are 8 proven ways you can try to get rid of chronic constipation.
1. Drink Water
There are numerous reasons that you should be drinking water. One of the most important reasons is to stay hydrated. Your body needs water in order to function properly. When you do not drink enough water all sorts of health issues may pop up. One health issue that a person who does not drink enough water may experience is constipation.
Staying hydrated is one of the easiest ways to get rid of any type of chronic constipation that you may be experiencing. Carbonated or sparkling water is a good choice when you are trying to relieve chronic constipation. Often times, when you are constipated drinking sparkling water can be more beneficial than drinking regular tap water. You should avoid drinking other carbonated beverages such as soda as this can actually make constipation worse. Dehydration is one of the main causes of constipation, so staying hydrated by drinking water can be an easy cure.