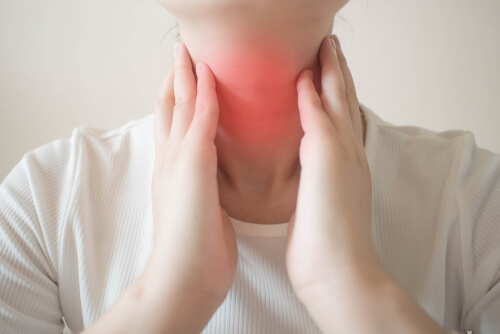 Around one percent of each newly diagnosed cancers in the United States each year are a type of thyroid cancer. This makes it one of the more rare forms of cancer to be diagnosed with. The most common type of thyroid cancer is papillary carcinoma with nearly 80 percent of thyroid cancer being this type.
Other types of thyroid cancer include follicular carcinomas, medullary thyroid carcinomas, and anaplastic carcinomas. When a thyroid nodule develops, a biopsy will be performed to examine the cells and determine whether it is benign or malignant.
Treatment for thyroid cancer will vary based on the type of cancer that it is as well as how far it has spread. It will typically require a multidisciplinary team including a radiologist, oncologist, endocrinologist, and a surgeon. Here are some of the most common symptoms of thyroid cancer to look for as an early diagnosis increases the chance of survival.
1. Nodule

Most forms of thyroid cancer will first present as a nodule. This nodule will be painless and is typically located in the front of the neck, just below Adam's apple. A person will typically discover a nodule by palpitating the neck. This may be self-discovered in the shower or during a routine examination by a physician.
Typically when a person discovers a solitary nodule they will not think much about it as these nodules typically will not cause any pain and can be somewhat unnoticeable. In about four to seven percent of the population nodules on the thyroid are present and most of these nodules are benign.
A solitary nodule is more likely to be malignant in people who are under the age of thirty or over the age of sixty. If you discover a nodule located under Adam's apple, it is a good idea to have it checked by a doctor to rule out thyroid cancer.