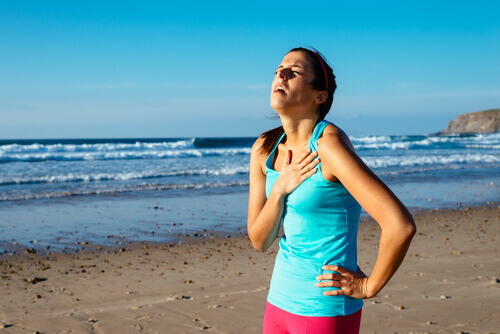 According to research published by the CDC, over 15-million Americans suffer from Chronic Obstructive Pulmonary Disease (COPD.) Affected individuals experience breathing difficulties as they battle with the gaseous exchange in the lungs. In some instances, people living with the advanced stages of COPD require oxygen treatment throughout the day, and the disease may prove to be fatal in many cases.
Millions of Americans may be living with this chronic disease, and not be aware of their condition. COPD progresses gradually over time, and many people don't notice the symptoms until COPD enters the advanced stage. COPD has no cure, but early diagnosis and treatment can halt the progression of the disease.
Losing your ability to breathe normally dramatically reduces your quality of life. Read through this list of eight general COPD symptoms, and if you spot any of them occurring in your life, visit your doctor for a consultation and diagnosis.

1. Shortness of Breath
This symptom is the hallmark of COPD. Shortness of breath is common for many people, and it's not a direct sign of COPD. Some individuals may find themselves winded after walking up a flight of stairs. However, this may be because they're unfit and out of shape.
However, if you find yourself short of breath or wheezing during normal activities where you had no issues before, it may be a warning sign of COPD. It's vital that you note any symptoms of shortness of breath when you're inactive. Being unable to catch your breath while sitting on the couch is an excellent example of shortness of breath induced by COPD.
If you experience anything similar, speak to your doctor immediately. Your physician will run a battery of tests to determine your lung capacity and VO2 max. The results of the test will indicate the health of your lungs and cardiovascular system and identify any signs of COPD.