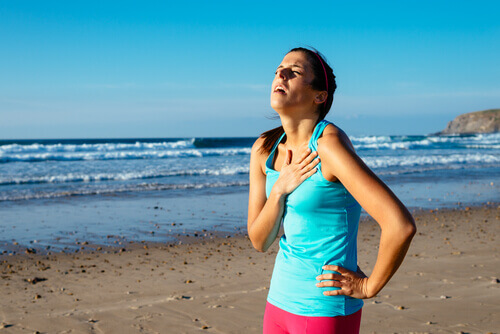 2. Shortness of breath
A lack of oxygen in the blood directly affects cardiovascular performance. Even fit individuals that exercise daily can experience this symptom of iron deficiency anemia. If you usually run a few miles in the morning but suddenly find yourself gassing out shortly after jogging out of the driveway, it may be a sign of anemia.
The extent of shortness of breath is linked directly to the severity of the anemia. The heart will respond to the body's demand for oxygen, by substantially increasing heart rate. In some cases of anemia, the cardiovascular workload may increase three or four-fold.
This strain on the heart results in an unusually fast pulse rate and shortness of breath develops as the heart function's reserve is being utilized. The body only has so much hemoglobin is available for metabolic function. Any physical effort requires extra blood to carry oxygen to muscles and organs. With lack of additional red blood cells to carry oxygen, shortness of breath occurs.