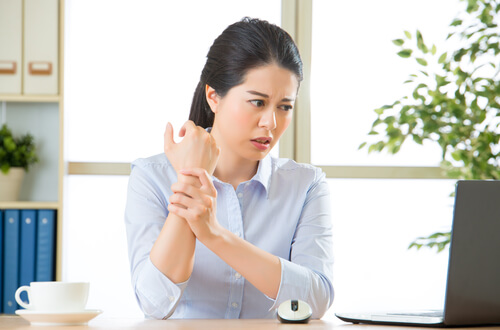 Trigger finger is a condition that affects one or more fingers of the hand, leading to difficulty moving and occasional freezing in position (called 'catching').
The predominant reason for this is that the tendon becomes too large for the tendon sheath that it passes through (a kind of tunnel). This then prevents it from moving properly, and can cause a clicking sensation.
Trigger finger is more accurately referred to as either stenosing tenosynovitis or stenosing tenovaginosis. Very often, it will affect the thumb or ring finger – though it can actually appear in most fingers and can sometimes even appear in more than one finger at once. In some cases, it might affect more than one hand.
The primary symptoms of trigger finger are a pain at the base of the finger or thumb (where the tendon runs), stiffness and clicking when moving the finger, and greater discomfort first thing in the morning than later in the day.
Perhaps the most notable symptom though, and the one that gives the condition its name, is the tendency for the finger to get 'stuck' in the bent position.
But what precisely might have caused this condition? How do you know if the area of your symptoms likely caused by a trigger finger, rather than something else? Let's take a look at 8 common causes.
1. Arthritis
Remember, the reason that this condition occurs is that the tendon is no longer moving correctly through the tendon sheath. Most often, this is because either the tendon itself or the sheath has become inflamed and swollen.
There are many potential causes of swelling and inflammation likewise, but the most common culprit is probably arthritis. There are many different types of arthritis, which can be caused by wear and tear, or by the immune system attacking itself. Whichever form, this can result in the development of trigger finger and make it harder to move the fingers, as well as making them more painful.