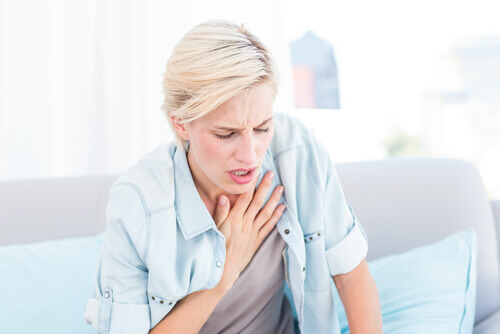 A hernia is a painful condition that is caused by the protrusion of an organ through the muscle wall. Normally, our organs are held tightly in place by a number of different structures. These include our 'fascia' which is a thin band of muscle tissue that wraps our internal organs like clingfilm, as well as our bones, and the rest of our smooth muscle tissue.
Every now and then though, damage to one of these structures can cause the internal organs to move in unexpected ways. In the case of the hiatal hernia, the organ in question is the hernia, and the muscle in question is the diaphragm.
We normally associate hernias with a bulging lump that appears on the stomach and that coincides with blinding pain when moving. However, in the case of a hiatal hernia, the symptoms are a little different – though no less uncomfortable and serious.
Read on to discover 8 of the most notable symptoms of hiatal hernia, so that you can better diagnose it in yourself and others.
1. Difficulty Breathing
As mentioned, in the case of hiatal hernia, the organ that is protruding and causing the problem in the stomach and the muscle being affected is the diaphragm. In other words, the stomach is pushing upwards and through the diaphragm.
The diaphragm, of course, is a band of muscle that sits underneath the lungs. Its job is to help to expand and contract the lungs, thereby increasing and reducing the vacuum in order to allow more or less air in.
As you can imagine then, the damage caused to the diaphragm can create issues when breathing. You might find that you struggle to breathe in and out all the way, it may be painful, and you might find that you feel like you can't quite get a full breath at any time.
This is likely to be particularly noticeable when climbing the stairs or otherwise engaging in light exercise. Of course, there are many other causes for shortness of breath (such as anemia) so you should look for this symptom along with others.