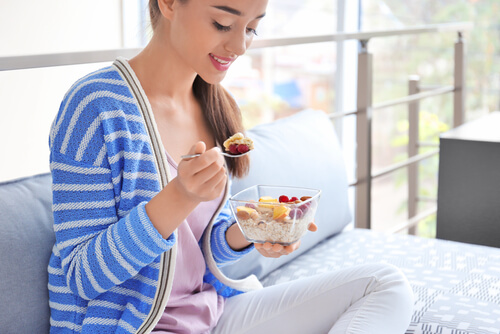 The large intestine or the colon plays a very important role when it comes to the digestion process. Unfortunately, this is one part of the body that does not often get the attention and the love that it deserves. A clean and healthy large intestine can help prevent many types of illnesses, infections, and diseases. Keeping the colon healthy is important for preventing issues such as irritable bowel syndrome and colon cancer.
A healthy large intestine can go a long way when it comes to your overall health. After all, the digestive system is extremely important when it comes to how we feel. There are several things that you can do in order to keep your large intestine functioning the way that it is supposed to. Here are 8 steps that you can take in order to detox your large intestine and improve your digestive health overall.
1. Eat More Fiber
When it comes to your digestive health it is important to remember that fiber is your friend. There is nothing better for your large intestine than fiber. Foods that are rich in fiber help to promote digestive health and keep your intestines running effectively. A high fiber diet can also help with weight loss. Eating foods that have a lot of fiber can help to prevent constipation. This can ease pressure felt by the intestines.
In addition, many foods that have high amounts of fiber also have other nutrients that are important for your health in general. If you are looking for the best way to keep your intestines healthy, eating a diet that has a high amount of fiber is going to go a long way. Some foods that you should add to your diet regularly include whole wheat grains and oats, and many fruits and vegetables as well as fiber fortified cereals.